LEARNING IN OUR WATERSHED™
Field Trip Grant Program
Scholarship applications are available — apply today!
We encourage field trips that foster the study of water law history and water development and an understanding of place, including the natural and human resources that we use and conserve. We do not fund recreational and athletic field trips, even if they occur at one of the listed locations. Please submit your application AT LEAST THREE WEEKS PRIOR TO THE DATE OF YOUR TRIP to guarantee timely processing of your request.
---
WHO IS ELIGIBLE?
All K-12 schools that are located in Weld or Larimer Counties qualify to submit an application to the Poudre Heritage Alliance's Learning in Our Watershed program. One application per school, per grade level, per year will be accepted. Additional requests to different field trip destinations will be considered as funding allows. Priority will be given to Title 1 schools and 4th grade classes per grant requirements.
---
OUR PARTNERS

This project was made possible by a grant from the National Park Foundation through generous support of partners including Union Pacific Railroad and donors across the country. Click here for more information about the Poudre Heritage Alliance's partnership with the National Park Foundation. REQUIRED: Please have all program participants fill out this photo waiver so you can receive your scholarship funds.
---
DESTINATIONS: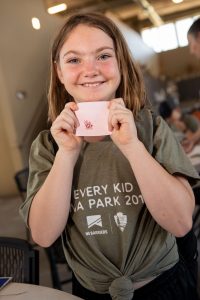 The following field trip destinations and events in the Cache la Poudre River National Heritage Area are pre-approved for the field trip grant program. More site-specific information that includes grade level/curriculum categories, location capacity and accessibility notices, and pre-field trip connections to the heritage area are available upon request. Reach out to programs@poudreheritage.com for more information on the sites below.
FEATURED LOCATIONS: These places and events are popular destinations for students from Kindergarten-5th grade, and include curriculum-specific connections that are easily integrated into classroom lesson planning:
HERITAGE AREA TOURS: Pick from one of our pre-designed wellness routes of the Cache la Poudre River National Heritage Area along the Poudre Trail. Sign up and receive a guided tour from a Heritage Culturalist volunteer! These tours are recommended for smaller groups of 20-30 students.
UNIQUE ADVENTURES: Looking for an individualized experience? Check out these lesser-known locales in Northern Colorado and find a hidden gem!
ADVANCED LEARNING: These destinations can be geared towards older students and offer a wide variety of educational experiences.
Other destinations may be approved on a case-by-case basis. The key criterion is the educational value of the field trip, not the particular destination.
Accessibility notice: The Poudre Heritage Alliance will make reasonable accommodations to scholarship recipients in an effort to be inclusive and promote accessibility to all groups who want to visit the heritage area through this program.
---
ALLOWABLE EXPENSES:
Grants will pay for reasonable student and sponsors admission cost.
Bus transportation via district or school buses, or via private bus companies;
Grant cannot pay for private automobile costs, learning materials, and food.
Reasonable substitute teacher and/or field excursion assistant costs may be considered for funding.
* Grant award maximum = $250
---
APPLICATION:
APPLY NOW! Submit the online application form or mail the the application to the Poudre Heritage Alliance Administrative Offices (see below). Applications are open throughout the year until the grant funds are exhausted. Incomplete applications will not be reviewed.
If your field trip is to a pre-approved destination (see list above), you will select that destination on the application. If your field trip destination is not on the pre-approved list, you will be asked to provide additional information about the educational value of the field trip. We are not responsible for any circumstance beyond our immediate control, and difficulties on the part of yourself, your school, or your Internet service provider will not be considered.
---
SELECTION:
Grant recipients are selected on criteria established by the Poudre Heritage Alliance with the assistance of the funding partners. The criteria will include:
Learning about the history of water law and water development goals of the Poudre Heritage Alliance and its funding partners
A focus on K-12 students and their classrooms
Date of application
A pre-approved destination, or documentation of the educational value of the proposed destination
Funds available in each grant cycle
---
AWARD:
The grant will be awarded based on your best estimate of expenses. Along with receiving your scholarship notice, Poudre Heritage Alliance staff will reach out to schedule a Heritage Culturalist volunteer or staff member to greet your group upon arrival at your field trip location.
Additionally, your class will required to view an educational video about the Cache la Poudre River National Heritage Area before going on their field trip. For younger audiences, we recommend an animated video about the history of the Poudre River. For older groups, we recommend this longer video about the heritage area. We also send site-specific videos and information as appropriate.
Funding will occur after the field trip as a reimbursement. To receive payment, submit this Field Trip Close-Out Form, with your district or school transportation invoice or sales receipts within 30 days of taking your trip to admin@poudreheritage.org or mail to Poudre Heritage Alliance, 3745 E. Prospect Rd. Suite 205, Fort Collins, CO 80525.
We accept only official invoices or sales receipts showing actual costs, which frequently comes from the school's office manager or transportation department.
---
FIELD TRIP GRANT ONLINE APPLICATION FORM: